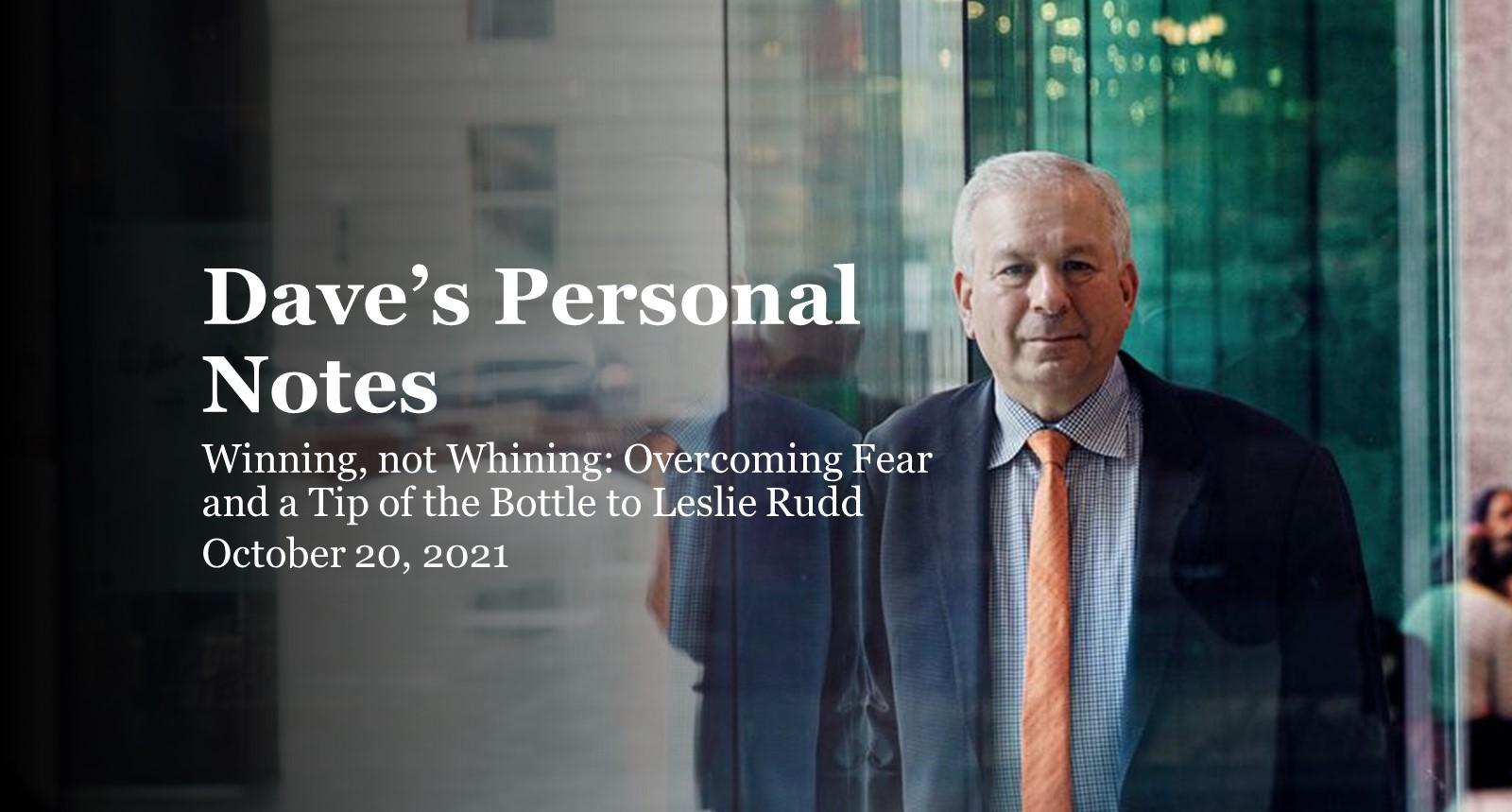 Wining, Not Whining: Overcoming Fear and a Tip of the Bottle to Leslie Rudd
October 20, 2021
When I'm asked how I got through these past twenty months of the pandemic with my sanity intact, the answer hasn't changed. Wine. Good wine. And lots of it. But not to the point where it clouds my judgment (though many folks think I may have had too much given my against-the-consensus call on the inflationary future).
I wasn't always a wine guy. I used to be a beer (and scotch) guy. But I began to develop a taste for the fermented grape when I started working at BMO-Nesbitt in 1994, as Sherry Cooper's spouse (Sherry as my boss and chief economist), Peter, co-owned a vineyard in South Africa. And she got me hooked at our very first departmental dinner. Before that, I wouldn't have been able to tell the difference between a Barolo and a Beaujolais. Let alone learning how to sniff, swirl and sip (not slurp!).
But it was when I left for Merrill Lynch in New York City that my love for wine really took off. Remember, this was in 2002 just as the housing and mortgage mania gained momentum — every firm on Wall Street was raking in the dough and marketing budgets were literally exploding to the upside. I was home in Toronto on the weekends but from Monday to Thursday, the various sales teams took me out with clients virtually every night.
It's a miracle I didn't weigh 300 pounds at that time. And with the dinners came exceptional wines. The best. And while the discussions centered around the macro and the markets, not once did they fail to include a commentary on the wines served. And the sales force and these sophisticated clients knew more than a thing or two — so while I dominated the talk when it came to GDP, the ISM manufacturing PMI and the S&P 500, I kept quiet (yes, I can do that), listening and observing, as the conversation turned to wine.
I recall in my first few months in NYC, the hedge fund sales team took me out with their top ten clients to the basement cellar of a well-known Italian restaurant in Greenwich Village. The sales folks hired a sommelier and cheese expert too, and I was instructed to use no acronyms, to keep it short, and to be light, erudite and funny (I can do
that, too). I think I kept my remarks to 10 minutes (there's a first time for everything), and then the sommelier went into a description of all the wines that were being served from the Brunello to the Barolo to the big Tuscans; and the cheese expert gave us a lesson that is stored in my memory bank forevermore — I can still taste the gorgonzola, parmigiano and mascarpone. And I recall all too well standing there, after finishing my spiel, swirling my Brunello, and thinking "wow, and they pay me for this, too."
I have to say that I owe a debt of gratitude to Paul Vancura, the senior statesman on the institutional sales desk and a good pal, for taking my wine knowledge to the next level. Paul doesn't imbibe anymore and has become extremely health conscious (and a kick boxer), but back in the day, after a heavy day of marketing, we would go to this amazing wine bar on Hudson Street in Tribeca — with him as the teacher and me as the student.
I never had developed a taste for pinot (way before Paul Giamatti in Sideways) until one evening when Paul told me that my problem was that I was buying too much "plonk" and that for this fickle wine, you really do have to trade up. A tasting of Flowers and Etude was all it took — and as anyone at Gluskin Sheff would have told you when I came back home in 2009, these two wines became folklore at my former shop. And I have Paul to thank for it.
Starting in 2011, I started to go to Napa every spring on trips with various friends. I highly recommend that anyone who does a Napa trip should contact Ona and Dan Marks who run Designated Drivers Napa — they will look after you and get you into small boutique vineyards that are tomorrow's Screaming Eagle but at a fraction of the price. I really like Old World wines, but I simply adore Napa wines — the big bombs. Cabernet from Howell mountain to pinot from the Russian River. Bring it on.
In some sense, I can say that it was wine that actually gave me the courage to finally start my own business. Back in the spring of 2017, Leslie Rudd, a highly successful entrepreneur and philanthropist, proprietor of one the most amazing wineries in the Valley (Rudd Family — Samantha's Oakville cab is over-the-top sensational), invited me to his office for lunch on the incredible property, and some wine tastings (Dan Marks — "Dan the Driver" — made the introduction years earlier, and Leslie had become a mentor of mine, beyond just wine but also career-wise).
I confided in Leslie about my yearning to start my own research consulting firm, but I "whined" that fear of failure was standing in my way. As he poured me another glass of his legendary cabernet, he said, "look up there," and pointed to a framed picture on his wall, with these words:
"If you weren't afraid, what would you be doing?"
To this day, I have never forgotten that moment. Even after a full bottle of his signature cab, I got the message right away. Fear not. Carpe diem. Live bravely and boldly.
Leslie passed away in May 2018, but his legacy and his wines live on. As does my passion for the fermented grape, which late in life helped me confront and conquer my fear of going out on my own and hanging my shingle at Rosenberg Research.
Dave.
Rosenberg Research ©2023 All Rights are Reserved